Why New Chapter Co-Founders Paul And Barbi Schulick Started Skincare Venture For The Biome At 65 Years Old
Before wellness was an inescapable buzzword, married couple Paul and Barbi Schulick were integral in defining it for consumers. Big believers in the power of herbal ingredients to bolster the body, they began New Chapter more than three decades ago as an outgrowth of their health food store in Brattleboro, Vt. The supplement brand was generating $100 million in annual revenues upon its acquisition by Procter & Gamble in 2012. The Schulicks stayed connected to P&G until 2018, when they felt pressure to accelerate profits and lack of a shared vision caused New Chapter to diverge from its original mission.
Shortly after their exit from P&G, the then 65 year olds decided to found skincare venture For The Biome rather than enter retirement. Its products, including a powdered cleanser and mask, essence spray, eye serum and face serum, are designed to fortify the trillions of beneficial microorganisms blanketing human skin. In a blog post, Barbi Schulick wrote, "We stand for our own healing, and yours, for transparency and truth, for resurrecting our broken planet, and for boldly speaking out for saner health care." We sat down with Paul Schulick to discuss why he wanted to tackle skincare, his brand's distribution strategy and path to profitability, and how it's addressing diversity issues.
Tell us about your history prior to launching For The Biome.
In the late 1970s, I formalized my master of herbalism training, which ignited my passion for formulating. I also opened a natural food store with my wife Barbi. There, I realized that there were products I wanted to offer my customers that didn't yet exist, specifically vitamins and minerals in a whole food and more absorbable form. In 1986, Barbi and I formulated and founded New Chapter dietary supplements, the first line of fermented whole food and probiotic nutrients integrated with herbal extracts. In 2012, Procter & Gamble acquired New Chapter, and I remained for six years under P&G's ownership. In 2018, Barbi and I founded For The Biome, what we call a "start again." We felt a strong call to continue the work of raising consciousness, treating as a whole, and healing and supporting the connection of mind, body and community.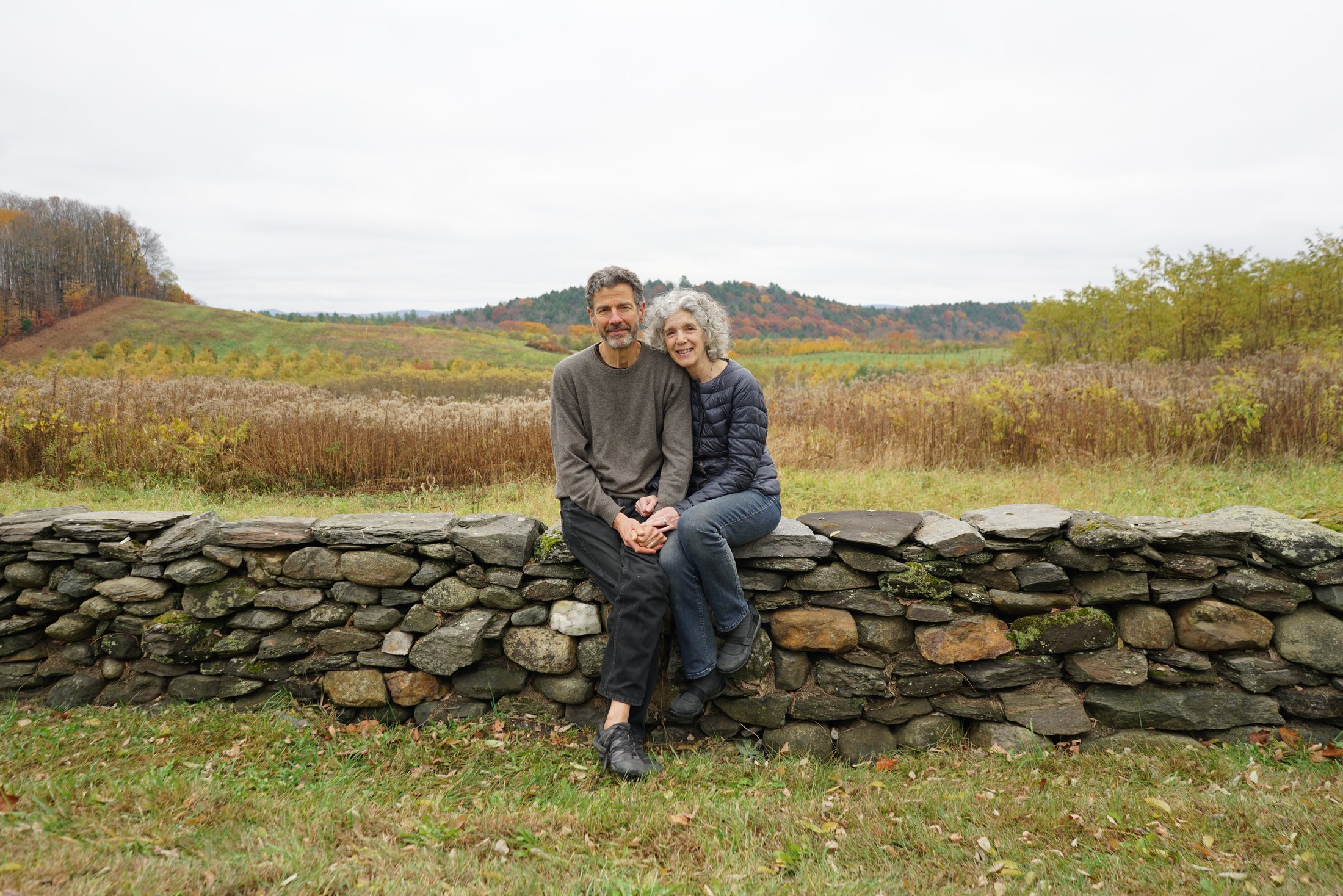 Why did you decide to shift from supplements to skincare?
Having for most of my life focused on supplements and internal systems and organs of the body, the idea of health from the outside in and recognizing the skin as yet another therapeutic gateway into whole body wellness was exciting to think about in terms of what I could formulate. I became incredibly fascinated with the pioneering research on the microbiome of the skin, which is not only our largest organ, but one that some scientists have named "the third brain." Deeply nourishing the skin and facilitating crosstalk communication between the microbiome and our skin cells not only gives us glowing healthy skin, but also impacts our overall health.
What was missing from the skincare market that you thought you could provide?
Microbiome-beneficial and non-disruptive skincare that is formulated using 100% active and whole organic, ethically sourced and scientifically validated ingredients amplified with fermentation and CO2 extraction technologies. This is the ultimate preparation of skincare that truly supports the skin's natural processes without creating noise that blocks communication between the skin and its microbiome.
The current skincare market tends to focus on problems that need to be fixed such as breakouts, dryness or inflammation rather than understanding what your skin is trying to communicate. Breakouts could mean emotional stress, which would need to be addressed. The goal is to keep the skin's communication systems healthy so we can get to the core of what our body needs. It's rare for a skincare company to have this perspective versus a quick fix. We aim to respect your skin's innate wisdom and ability to hydrate, adapt and protect itself.
What's the marketing strategy to help consumers understand the brand?
The nature of our products and mission naturally makes us an educational brand. Our marketing strategy is primarily content-focused with the dissemination of our message via influencer marketing, media partnerships, and the information we push out through email and our website. To truly see the value in our products, we need to take a step back and increase consciousness around the skin, its microbiome and the connection of everything. Not an easy task, but an important one that we don't take lightly.
Who is the target customer?
When we first heard the word "skintellectual," it really resonated and identified our customer.  This customer is science-savvy, mindful and is searching for a clean clinical solution for their healthiest skin and also for a brand that resonates with their beliefs of respecting the planet. This consumer really loves to educate themselves on ingredients, read labels, and continually wants to go deeper and learn more which, of course, fits perfectly with our brand. The other customer we target is what we call the "loyalist," i.e. consumers that are familiar with New Chapter and trust that my formulations will be cutting-edge, uncompromising in terms of ingredients and technologies, backed by science and, most importantly, highly efficacious.
What's For The Biome approach to distribution?
Originally, we had envisioned being in both brick-and-mortar and e-commerce. As the market and retail has shifted in the last few months, we intend to continue to develop and invest in direct-to-consumer and partner with those retailers that currently already have and/or are now developing more robust e-commerce platforms.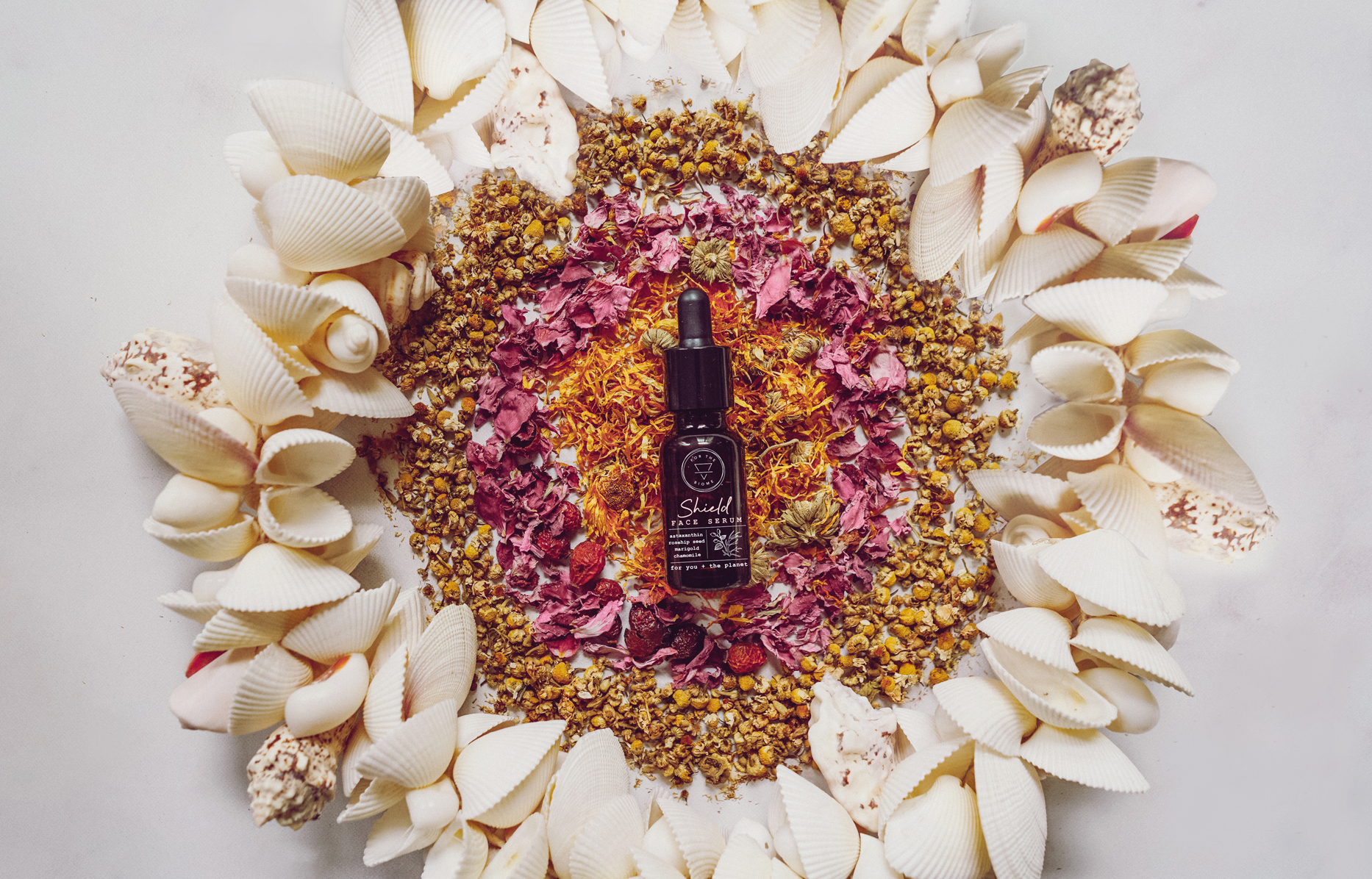 Where is the brand currently being sold?
Currently, we are selling direct-to-consumer and are on a new virtual store called Beautyque NYC. Our strategy is to ideally launch into clean beauty retailers that truly advocate and understand the importance and value of cleaner, more sustainable ingredients and packaging. We eventually would be open to expanding into crossover retailers that offer premium products and have standards around ingredients in their clean, natural sets. We really want the growth to be organic and our partners to be the right fit. We are taking it step by step as we navigate the current retail landscape.
What retailer is a dream partner for For The Biome?
Credo would be a dream. We love the commitment and standards around ingredients. They do a great job educating and telling stories behind the brands. We also love Follain and Detox Market for the same reasons. Longer term, Sephora would be a dream, but, right now, we are focused primarily on clean beauty retail.
Amazon, yes or no?
No for the foreseeable future.
When did you or do you plan to reach profitability?
Originally, we projected it would take about two years to break even. However, we are adding on another 12 to 18 months given the current market.
What is For The Biome's hero product?
Shield Face Serum is currently our bestseller, but our Restore Essence Spray with New Zealand Manuka and Swiss black bee honey ferments is not far behind. It is so incredibly restorative to your microbiome, but also protects against the stressing effects of pollution. Celebrity makeup artist Katey Denno touts Restore as the ultimate setting spray to give you that glass-like finish. We didn't expect that, but, sometimes, heroes emerge on their own terms, and we will let the customers decide.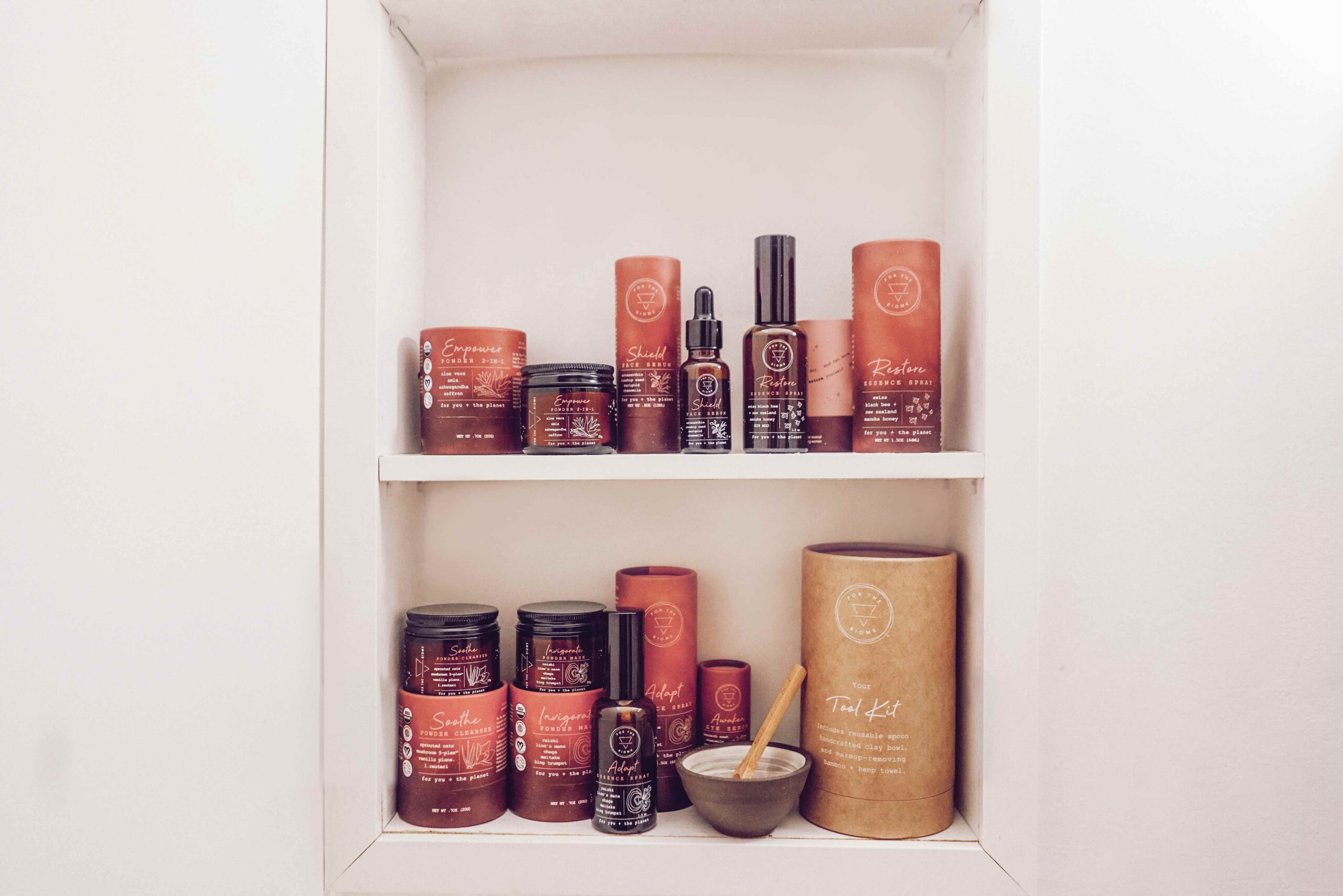 How did you land on the price range?
Our prices range from $65 to $120. The biggest determining factor is the cost of our ingredients and our technologies. We are transparent about our ingredient costs and publish them on our website versus the industry average. This is really important because you are paying for quality as well as authenticity. For example, the aloe vera we source is the best I could possibly find in the world, one which has very high levels of specific polysaccharides that are able to advance hydration and health of the microbiome and of the skin. I could buy a certified organic aloe vera product for $50 or $60, but I spend over $250 because I want to make sure that those polysaccharides are maximally available to the microbiome and to the skin cells.
Another big factor in cost calculation is our technologies, which amplify each ingredient and are proven to increase compatibility, efficacy, extend shelf life and create less environmental waste. For example, volcanic CO2 extraction costs two to three times more than cold press or solvent extraction. We also invest in certifications. Our six certifications—and counting—give consumers peace of mind and confidence in navigating claims.
What team members have been crucial investments?
The very first hire, Kelli Hanzalik, who is our president and COO, has been absolutely critical. She has a background in finance, marketing, sales and operations, and is able to wear the many hats that a startup requires. She also worked with us at New Chapter for many years, so that familiarity was essential. Another crucial hire was our creative team of two. Having this talented and creative marketing skill set in house from the beginning has been so key in really honing our voice, messaging, packaging, and visual presentation of our brand. We are also lucky to have Maren Giuliano as our VP of sales and business development. She brings a wealth of industry knowledge from her tenure at Whole Foods and has been key in helping us navigate the current landscape. Currently, we outsource PR and fulfillment, IT and legal.
How has the pandemic affected the trajectory of the brand?
We launched the skin products at the end of February this year and had planned to attend a variety of trade shows and conferences in early March and throughout the summer, including Indie Beauty Expo. [Indie Beauty Expo and Beauty Independent are owned by the same parent company, Indie Beauty Media Group.] Obviously, that was unable to happen, so it slowed down our launch into retail. On the other hand, we have expedited our move into ingestibles. Having the deep expertise and meeting the needs of this moment has called forth the development of several products we will be launching in the fall. We always planned on being a wellness company, not just a skincare company, so that aspect is happening faster than anticipated.
Having been through the acquisition process before, what suggestions do you have for brands going that route?
Spend a lot of time making sure you are making the right choices and, then, spend some more time thinking about that. Be sure to listen to and explore all opposing viewpoints.
What advice could you give to up-and-coming brands?
It's like building a house, always harder and more expensive than you thought. From a born idealist and optimist, be sure to keep your idealism and optimism in check.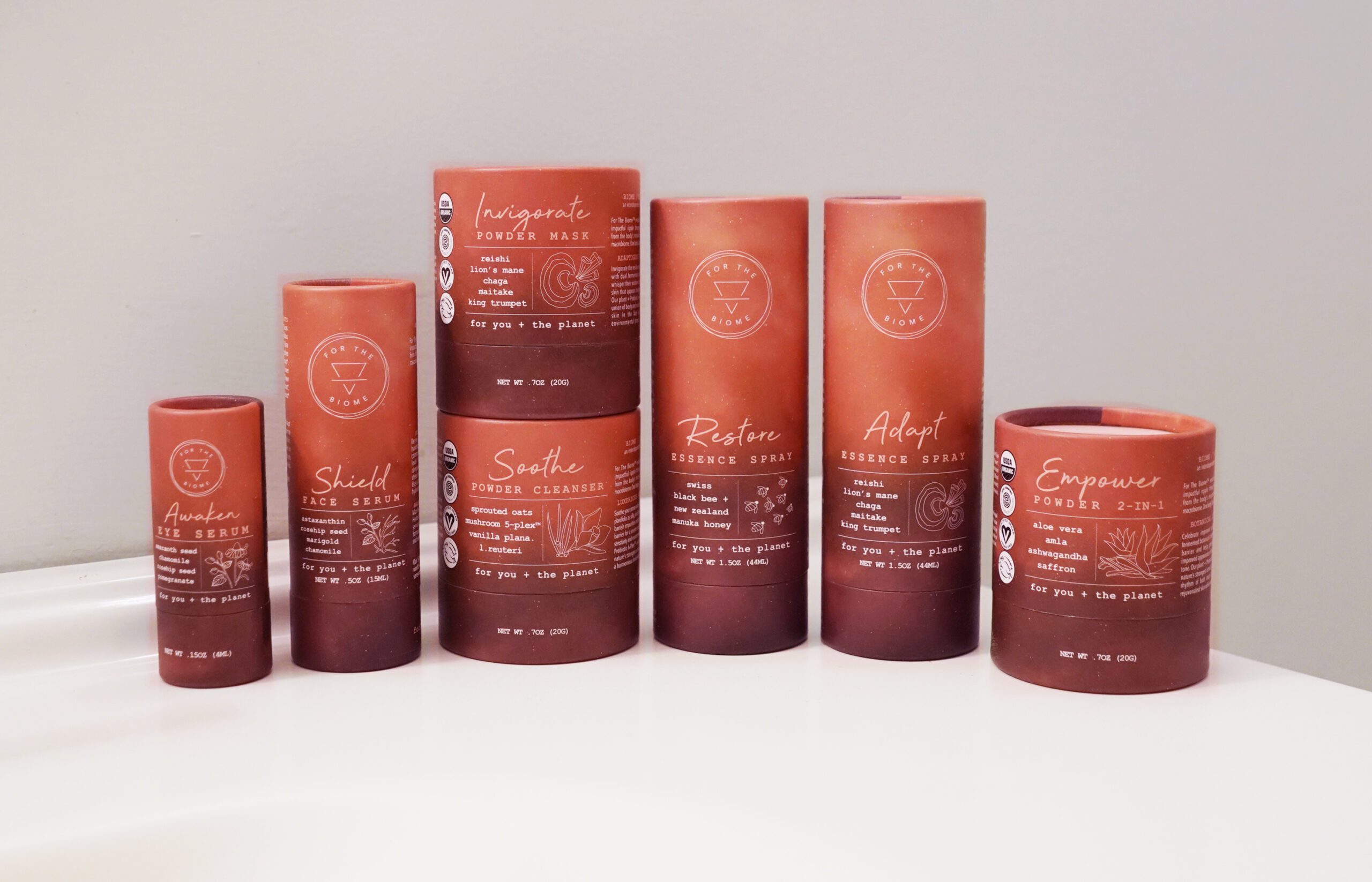 How does For The Biome practice sustainability?
It is at the heart of everything we do. For The Biome isn't just about the microbiome, but about the biome of our communities and planet. Our technologies are zero waste. Our ingredients are certified organic and ethically sourced. We use glass packaging, aluminum caps or recyclable plastic. Our outer packaging is 100% post-consumer fiber board wrapped with 100% upcycled paper, and the ink we use is soy-based and nontoxic. Transparently, we think that our packaging can be even more sustainable than it already is, and we fully intend to take it there. As we grow, you will continue to see our sustainability efforts evolve. We are considering "naked" reorders, streamlined outer packaging and refillables by 2021.
What products other than your own would we find in your medicine cabinet?
The only other skin products I use are usually a DIY blend of essential oils and tamanu oil, which I will use to massage sore muscles. And, of course, as an herbalist, you will find dozens of teas such as chamomile, green tea, rosehips, peppermint, etc., which I blend and drink throughout the day. In terms of supplement brands, I choose those that focus on a key concept or ingredient and make it as good as they can and have lots of science to back it up such as Kyolic organic garlic or Enzymedica enzymes.
Does For The Biome work with influencers?
Yes, we do work with a diverse group of influencers and brand ambassadors. We've seen great success working with anyone from celebrity makeup artists to niche influencers in the herbalism and conscious living space. We're such a young brand, so our primary focus is brand awareness and engagement, but our biggest win with influencers so far is what it's helped us learn. For instance, from our influencer efforts ,we've learned that our Discovery Trial Set is an entry point that resonates for most people. It's learnings like this that help drive the bottom line and build a loyal customer base.
What has been effective for the brand on social media?
Social media has been a great place for consumers and partners alike to learn more about our brand and products. We leverage it as an educational tool to help guide our audience through what can sometimes seem like a complicated journey. Of course, we care about selling products, but, for us, social media is most effective when we put education first.
How does For The Biome embrace inclusivity?
Current events have shined a much-needed and long overdue light on this issue. Our team, like many others, has and continues to take a hard look at ourselves, reflect and learn how we can be the best allies. We realize that wellness tends to cater to white audiences. Right now, we are taking time to reflect on how we unknowingly have contributed to this dynamic, and we are having weekly, almost daily, conversations to identify what we can do to make our business more inclusive for BIPOC audiences. To keep the momentum of this movement going, we know we have to do our part.
Our marketing and influencer efforts have been mindful of diversity since we started them, but we will be putting forth and centering more of the beautiful content from our BIPOC partners and giving them a platform to share their stories. The majority of our team was hired in the Northeast, which has a large white population, but we are expanding future positions to be hired remotely to increase the chance of diversity. There are a lot of things in the works right now like BIPOC partnerships, educational content efforts, quarterly accountability meetings and more, and we are excited to share this with our audience and grow our BIPOC audience as they come.
Original Article: 
https://www.beautyindependent.com/new-chapter-co-founders-paul-barbi-schulick-skincare-venture-for-the-biome/
Leave a comment